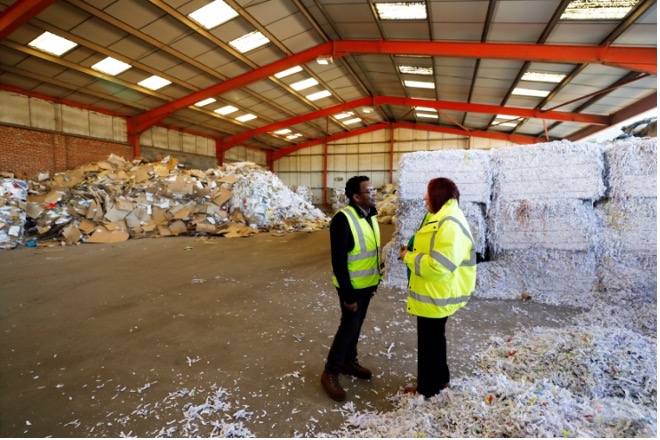 Welcome to Citrus Security Shredding: the personalised way to safely disposing of your confidential business and domestic documents and other sensitive items across Suffolk and Norfolk.

The Leadership Team
Jules Shorrock & husband Freddie Chance are the business owners & operators of Citrus. Word of mouth recommendations & business growth comes from treating all Customers as they themselves appreciate being treated. On line orders are increasing, but 80 % of sales result from a conversation, & happy Customers referring Citrus exceptional personal service.
About Freddie
Freddie worked his way from low income family through considerable adversity to be a qualified brick layer to supervisor, & onto co-owning his own business specialising in Lime mortar work in 2000. His other passion is scuba diving, & as a Dive master he is responsible or coaching learners. Freddie brings team building skills, H&S compliance, strength, & friendly professionalism that Customers evidently appreciate, generally describing him as " A Lovely man".
About Jules
Jules is also a well-respected member of the local business community. Between 2017-2020 she was the first woman selected to Chair of Suffolk Chamber of Commerce in Lowestoft & Waveney. Jules is the current vice-chair of Suffolk Business Women and is a well-regarded commentator on business issues in local newspapers, regional Radio and TV. Most recently on Radio Suffolk 24.01.23, discussing Best Practice policy's for business supporting menopausal women / Equal Opportunity.
Jules advice to Women in Start up businesses were published in the Daily Telegraph in July 2022 and also East Anglian Daily Times 'Women in Business'
NatWest 'How Female Entrepreneurs can adapt to Business Challenges'
Jules is the only Woman in Suffolk featured in the NatWest Female Entrepreneurs 2021 campaign! Jules is a Trustee of Inspire Suffok, and a Trustee of Chedgrave Oxygen Therapy Centre Ltd, a panelist on Suffolk Community Foundation Women & Girls Fund selection group, & panelist on the Norfolk CC Drive Fund Selection group.
About Citrus – Sharp Security Shredding
Citrus operates out of a state-of-the-art modern shredding facility in the north of Suffolk.
All confidential documents received are safely shredded and recycled. Citrus also securely destroys photographs, drawings, bank cards, passports and discs, using our advanced, eco-efficient specialist data shredding machinery.
Citrus also provide a Certified uniform shredding and ethical recycling service, and can arrange secure disposal of other branded goods.
Our whole operation is appropriately monitored with live cameras, which record the unloading of vehicles and the operation of the shredding machines, to provide our customers with the total confidence for their complete peace of mind.
Citrus manage office clearances of all confidential data from filing cabinets and shelving, providing assorted sizes of large bins, as well as supplying skips and an efficient team of furniture movers.
Citrus Security Shredding also supply well-made, effective office recycling bins and provide recycling and waste reduction consultation (see shop)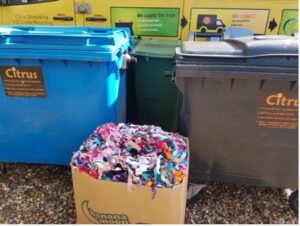 All our staff, including the directors are regularly CRB (Criminal Record Bureau) and DBS (Disclosure and Barring Service) security checked and carry ID. Our vehicles are locked at all times and their collections are monitored.
Once shredded and disposed of, the owners of confidential items receive a Certificate of Destruction confirming that this is the case.
"For Citrus, from your door to our disposal machines, it's all about giving you the peace of mind you deserve" adds Jules.
Protecting your data
As you might expect because of the work we do, Citrus is really on top of the legal and other duties we have to our customers in protecting the data we hold about them.
Our personal information handling policy and procedures have been developed in line with the requirements of the 1995 European Union Data Protection Directive (Directive 95/46/EC) and the 2018 General Data Protection Regulations (GDPR) as well as applicable national law.
Should you wish to see the Citrus Security Shredding GDPR statement of compliance and our privacy policy, please click here.
***ISO Assessors independent audit reviews :
The following ISO safeguards offer further peace of mind if you choose use to handle disposal of your data and personal information.
Citrus Quality Management System
Complaints Procedure/ Customer feedback
Adherence to statutory Health & Safety obligations- testing, Risk Assessments & Method Statements
Adherence to DVLA Transport obligations
Adherence to Environmental Agency management including Waste carrier & site Licenses
Adherence to HR Legislation & Practice
Efficacy of documentation
Business Ethics
Legitimacy of Trading / Financial reporting & Supply chain partnerships
Citrus strive for continual learning, innovation & improvement in all aspects of our business
Where can I find more information about Citrus Shredding's handling of my data?
Should you have any queries regarding this Privacy Notice, about Citrus Security Shredding's processing of your personal data or wish to exercise your rights you can contact Citrus Shredding's Privacy Team using this email address: citrus.shredding@live.co.uk .
If you are not happy with our response, you can contact the Information Commissioner's Office