We are delighted to have been nominated as a finalist for Customer Care in the 2020 Suffolk Business Awards!
The Customer Care category is sponsored by Greater Anglia and looks for entries from businesses which show a "clear focus on their customers' needs, examples of customer-driven initiatives designed to raise service standards and evidence of increased customer satisfaction".
What an honour it was to read that the finalists will be "those businesses which demonstrate how they exemplify outstanding customer service, consistently delivered at the highest level, by a customer focused individual or team."
Our CEO Jules Shorrock said: "It is fantastic to win an Award in 2020 Suffolk Business Awards , Finalist in Customer Care group. Citrus continue to manage rapid growth from new home workers & residential enquirers, & to cater for their needs we have a personable call care manager who is available at all times to deal with questions, advising & updating customers. Collection staff are retrained to give customers peace of mind &,to let their smiles shine through the PPE. Citrus surveys & Feedback shows that friendly, caring human contact is very much appreciated, & in this tumultuous year more than ever."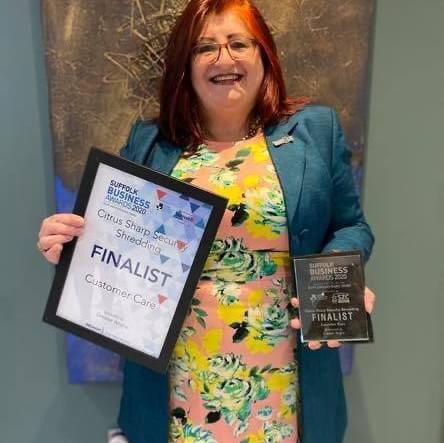 For more information, visit the Suffolk Business Awards website or see the following video for the finalists in our category.